※We are temporarily closed due to Typhoon Hagibis.
Kawasaki, the City with Many Faces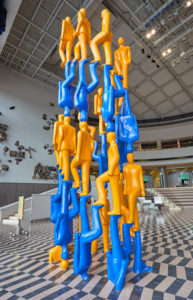 The Kawasaki City Museum opened as a cultural complex of history and art in November, 1988. In accordance with its basic theme of 'The City and Its People', the exhibits and collections highlight two distinct categories. They present the history and progress of Kawasaki on the one hand, illustrated with archeological, historical and folk exhibits; and, on the other, modern and contemporary artistic expressions with exhibits of posters, photographs, manga, films and videos by artists who have drawn inspiration from the urban environment of Kawasaki and other cities. These two facets of the museum have enabled it to amass rich and varied collections, and have resulted in displays and exhibitions that are both unique and original.
The museum offers permanent and temporary exhibits as well as regular showings of its visual collections. It also offers the general public for the use of its galleries and conference rooms for various purposes, including performing arts, concerts, lectures and workshops.
The Kawasaki City Museum aspires to become a hub of novel cultural experiences for visitors who look for discovery and enjoyment in art and culture. We await your patronage for, and participation in, our wide-ranging activities.